Gold Filter Glass Mug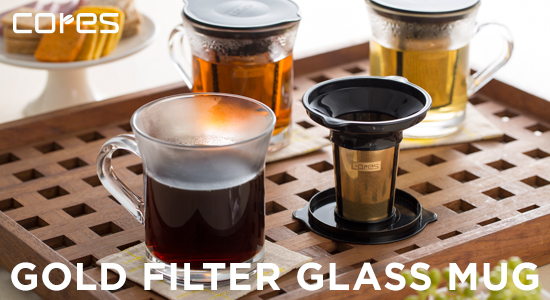 Model:
Retail Price:
Dimension:
Weight:
Material:
Capacity:
Origin:
Gold Filter Glass Mug C401
JPY4,000 + tax
W125 x D90 x H105 mm
400g
Gold-plated stainless steel, Glass, Polypropylene
180ml
Glass/Italy, Filter/China
*Household use only.

Easy to prepare "freshly brewed" drinks
Easy to prepare "freshly brewed" coffee or tea
No need to use any additional extractors, just put coffee or tea directly into the Gold Filter and pour water. You can enjoy one "freshly brewed" cup easily.

Gold-plated filter
Gold-plated filter
Gold does not cause any chemical reaction such as oxidation. As this filter is plated by pure gold, it does not add any unwanted flavours that can be caused by oxidation and you can enjoy a great tasting drink.

Glass mug made in Italy
Glass mug made in Italy
The glass mug is made in Italy and has a stylish and simple shape with universal appeal.

Dual purpose lid and filter tray
Dual purpose lid
The lid can be placed on the mug to keep your drink warm and can also be used as a tray for the filter when it is turned upside down.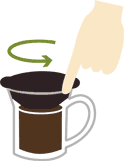 Rotate filter for coffee with even strength
When making coffee, it is better to rotate the filter before taking it out to even out the coffee strength.